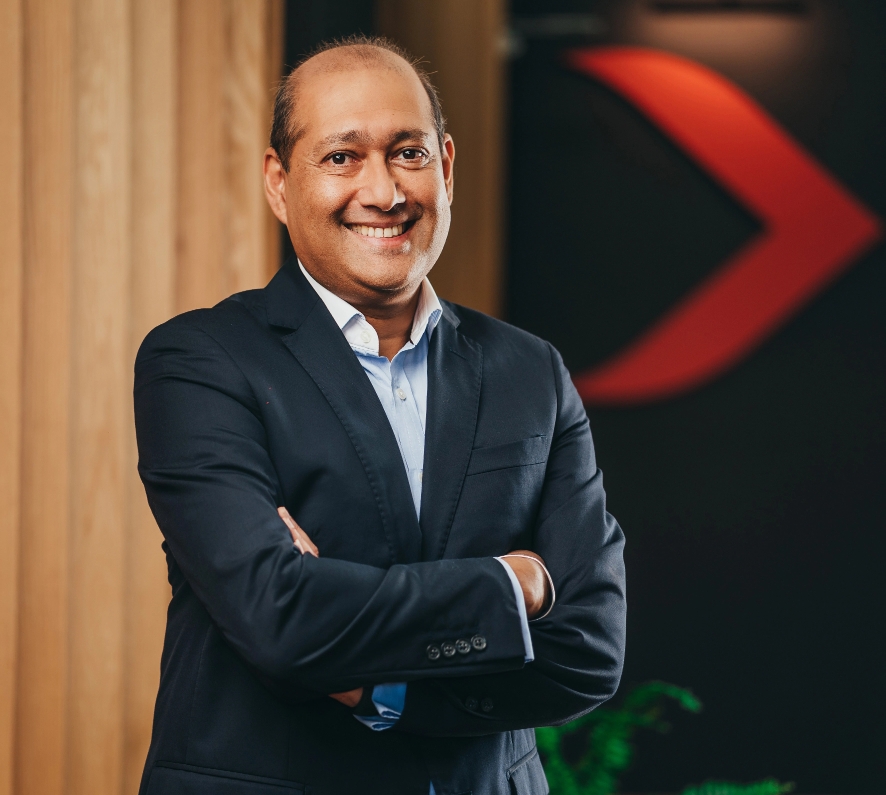 Dear Shareholders,
It is with immense pleasure that we are presenting the first Integrated Annual Report of Velogic Holding Company Limited. The report focuses on the key events, the financial results and analysis for the year through June 2022.
Global context
The unprecedented COVID-19 pandemic spread and the related supply chain disruptions affected the world economy. Velogic was not spared, particularly in 2020-2021. As countries reopened their borders, goods started to shift across the world as backlogs were cleared. We have already noticed a downward trend in Air Freight rates on the back of increasing capacity. However, the Russia-Ukraine conflict has added more pressure in an already challenging situation due to the drastic rise of fuel prices which directly impact transportation costs, resulting in fuel surcharges. Nevertheless, we expect the logistics industry to continue on its growth path. At Velogic, we are 1,300 collaborators, 38 offices spread across 7 territories, with a strategic focus in the Indian Ocean region. Our regional footprint and comprehensive network of over 300 agents worldwide has enabled us to participate directly in the economic recovery in many countries. We provide quality logistics services to our clients trading globally.
Key achievements of the Year
Expansion
In October 2021, the Company completed the acquisition of the 49% minority stake in the existing Kenyan company from our private-equity partner, KIBO Fund II. Since 2016, this venture has grown successfully through expansion of the customer base and service offering. This transaction consolidated our presence in East Africa. In so doing, the Company embarked on a route to improving its financial performance through geographical diversification.
Listing
In December 2021, Velogic was listed on the Development & Enterprise Market of the Stock Exchange of Mauritius Ltd, becoming the second subsidiary of Rogers and Company Ltd. to go public. This allowed the successful exit of Amethis from Velogic through the disposal of its 33.77% stake on the market. Through the listing, the Company aims at enhancing its visibility at local and international level as an integrated logistics solution provider in the region. For Velogic, its shareholders and partners, this is a major step in providing the Company with an additional option to finance its growth.
Infrastructure
At the end of 2021, we also completed the construction of our own garage infrastructure on the freedup land at the Riche Terre depot facility. These new facilities have enabled the transport activity to benefit from efficiency gains for maintenance of the vehicles. We also moved the Port-Louis office of UPS to our premises at Freeport Operations Mauritius, Mer Rouge. The combined rental savings following both projects is MUR 9 million per annum.
Partnership
A strategic partnership for the French entity was finalised in May 2022 with the disposal of 70% stake to an established local operator who has an active presence in Europe and the U.S. The partnership is expected to make Velogic France more resilient as it will be part of a bigger network that will enable it to rope in additional business opportunities and cost synergies. France continues to play a key role within the Velogic network of offices, particularly for Mauritius, Madagascar and India. A profit of MUR 22 million was generated from this transaction.
Our freight forwarding, customs clearance and express courier activities have been awarded the prestigious ISO Integrated Management System certification for ISO 9001-2015, 14001-2015 and 45001-2018, focused on quality management, sustainability, and Occupational Safety and Health Administration.
During the financial year under review, overseas activities contributed to 55% of Velogic's profitability compared to 44% in the prior period. Revenue improved by 25%. Profit after tax grew by 28%, with earnings per share increasing from MUR 1.23 to MUR 2.12.
Sustainable commitments
Velogic is committed to reduce its carbon footprint which is predominantly Scope 3 classified, that is, emitted by our main suppliers – Airlines and Shipping companies. As they embrace the use of greener fuel, our carbon footprint will also drop.
On our side, the haulage business has the highest carbon footprint and as such, we have pursued our initiative to reduce fuel consumption by providing ecodriving training to our truck drivers and maintained a fuel-efficient fleet. We have also invested in a software in Kenya to plan long distance deliveries in the most efficient way. We shall move to greener fuel as soon as this becomes possible.
We are also working on reducing plastic consumption by procuring re-usable wrap instead of single use plastic films. This will allow for the reduction of the carbon footprint by 30 tons each year. A reporting system for carbon footprint is being implemented before end of 2022 to monitor the reduction, following approved measures.
Prospects
Visibility for the year 2022-2023 remains blurred amidst lower growth prospects. Spill over effects of a prolonged Russia-Ukraine conflict will trigger far reaching consequences in the world in almost all geographies. The pace of inflation is slashing the purchasing power at grassroot level. At operational level, higher fuel prices could push transportation costs to unprecedented levels in relative terms.
Nevertheless, recovery is forecast to continue in Mauritius. Growth in tourists' arrivals for the year through June 2023 is expected to boost demands from hotel groups, and the broader economy. With regards to our overseas operation, Madagascar is expected to continue to grow on the back of increasing textile orders. India is projecting an interesting growth as well. However, these could be impeded by rising fuel prices and potential recession in developed markets and an eventual spread to the global economy. The elections in Kenya are expected to hinder growth in the first quarter of the fiscal year. We remain cautiously optimistic, nevertheless. We will closely monitor the situation.
Challenges and strategies
The Company pursues the endeavour of consolidating its strategic positioning as a one-stop-shop solutions provider in logistics. To achieve our targets, we will leverage on the right infrastructure already available in Mauritius and served markets to cement our position as a major regional player.
Bringing up our transformative steps to speed is of utmost importance when we take note of the current logistics industry landscape. Perpetual changes in the supply chains since the advent of the pandemic, the rising share of e-commerce and technological innovations have put the industry and key domestic players at the crossroads. Adapting to the fast evolving landscape is key to Velogic's future growth. Our dedicated teams will remain agile in understanding the customers' needs as well as finding solutions to make trade as sleek as possible. We further anticipate significant overseas' contributions increase spearheaded by growth in emerging markets. Velogic Kenya will continue to consolidate our position in East Africa. New acquisitions in the region will improve our service offering and develop additional business lines. Velogic India shall expand its coverage through the opening of new offices to offer an array of bespoke solutions to overseas agents and clients. The Mauritian haulage activities are set to benefit from the re-engineering of cane transportation in containers and lower personnel costs following the turnaround initiatives.
Velogic has developed an agile business model. Such a level of adaptability to the local and international dynamics provides a strong basis to face and overcome forthcoming and future challenges. Velogic is well positioned to take advantage of any development of the port which would make Mauritius a regional maritime hub.
Acknowledgements
I wish to express my immense gratitude to all of our clients for trusting us with the handling of their logistic needs. Rest assured, my teams and myself will walk by your side to deliver as per expectations in a volatile global environment. My grateful thanks go to the Chairman and the Board of Directors for their guidance and support in another eventful year for Velogic. Finally, no major milestones and targets could have been reached and achieved without the hard work, commitment and unflinching support of my fellow colleagues.
For the forthcoming year, my teams and myself are confident that Together, We shall Make Trade Easy!
Nayendranath (Vishal) Nunkoo
Chief Executive Officer